Beautiful Brides in Spain
Hair and Makeup in Spain by Dee


Beautiful Brides in Spain © 2017

For makeup advice and hair ideas for your big day - Contact Me!
If you're looking for makeup advice and/or wedding hair ideas, then please contact me.
Although I specialise in weddings, I also love doing hair and makeup for other special occasions.
I offer private makeup classes too, so if you would like to refresh your ideas and update your look please get in touch.
To establish exactly what you require and how I can best help you, please fill in the form below, so that I can contact you.
I don't like spam and therefore your details will be safe with me. I promise not to use them for any purpose other than to contact you as per your request.
You can also contact me by:
" Dee was amazing from the initial meet up. I told her that we were looking for a 1920's style to our wedding look and she was fully on board with this from the start offering idea's for makeup and hair styles.
The hair and makeup trial was a great experience and Dee put me and my chief Bridesmaid at ease from the start. We were both very pleased with the results for both hair and makeup and they fitted into the 1920's theme perfectly.
I was in contact with Dee through our whole planning process up to the bug day and Dee even put me in contact with some of her entertainment contacts and we ended up using a magician she recommended for our big day. She knew a lot of people in the wedding business locally from seamstress' to entertainers and she offered advice on all aspects.
When the big day arrived Dee was on hand for me and my three bridesmaids and she and her assistant managed to replicate the hair and makeup from the trial and were great and keeping it in keeping with the 1920's vintage look I was after. Dee was even happy to fit in my flower girl for a bit of makeup and her hair doing at the last minute for a minimal additional cost. One of my bridesmaid's has really curly/afro style hair and Dee managed to get her hair into ragdoll curls which was so in keeping with our wedding look. The bridesmaid herself was so impressed with how she managed to style her unruly hair. The final result for all of us exactly what we wanted it to be and more.
Dee even agreed to redo my hair and makeup for a post wedding photo shoot, in which she had to replicate the hair and makeup from the big day as I got back into my wedding dress for further shots that we didn't manage to catch on camera on the big day due to weather and timing. I was so pleased she was able to do this for me to enable us to get all the photos we had desired. I would not hesitate to recommend Dee to any Bride looking for someone to do their hair and makeup for their wedding day.
Dee is such a lovely lady and helped me out with a lot if aspects of our wedding planning and I could not have asked for more in a hair and makeup artist. The makeup that she uses is of great quality and the hair and makeup both lasted all day and was photo friendly all day too".
Sadie Darlow
Wedding Makeup and Hair Gallery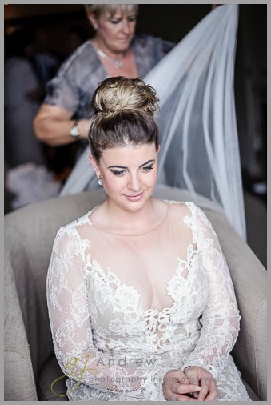 Hair and makeup in Spain by Dee for your wedding day and special events
Brides hair and makeup in Spain, Bridal hair and makeup in Costa Blanca, Bridal Hairstylist in Costa Blanca Spain
Hairstylist and makeup artist in Spain for your wedding day and special events