Beautiful Brides in Spain
Hair and Makeup in Spain by Dee
Beautiful Brides in Spain © 2017

Natasha
Dee at Costa Brides was a blessing from the start.
We met to discuss what I wanted and trying to deal with a lot of suppliers in Spanish it was great to meet Dee and her understand exactly what I wanted from the start! She completely got onboard with my ideas and adding her unique touch to my initial thoughts. We weaved the Gyp from the bridesmaids bouquet into the hair and it looked better than I had imagined.
In the lead up to the wedding I also struggled to find a suitable minister. Dee had so many contacts and put me in touch with the right person straight away. It was reassuring to have someone who knows her
stuff on your side.
During the build up and on the day Dee took control of all the guest, bridesmaids, mother of the bride, mother of the groom, Nan and flower girl and i didn't have to worry about a thing. Timings and prices were pre planned taking the hassle away from me on the day. Everything ran to schedule and the girls looked superb on the day.
I would 100% recommend Dee to any Bride in southern Spain. It's one less thing to worry about once you have Dee confirmed. Trust me, you won't be disappointed.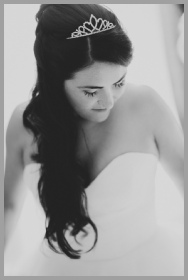 Claire & Declan
I can't praise Dee enough for all her hard work and patience on our wedding day. She made us all feel at ease it was like we knew her for years with all the chatting and laughing that was had while getting ready.
My bridesmaids, mam and my husband's mother were amazed with their hair and make up and I couldn't have been happier, we all felt beautiful on a special day thanks to Dee! I shed a few tears but there was not a mark on my face, In fact, my make up was completely in tact when I woke up in the morning. I am so glad that I had Dee as my makeup artist on our big day.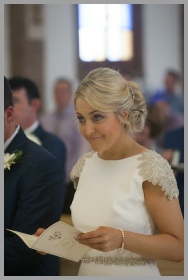 Rowena
Dee is a wonderful, talented hair and make up artist. She puts you right at ease and quickly understands what you want and what suits you (even if you don't know yourself!) Everyone was very complementary of my hair and the bridesmaids on our day. I was very happy with her work and I would highly recommend her to anyone.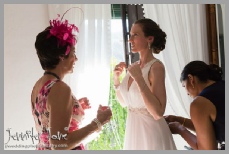 Blenheim Palace
Everyone commented on how good my makeup was and it stayed on all day without a touch up, despite a few tears.
However having now got married, the most important thing was Dee was nice, very friendly and an exceptional time keeper. After weeks of no sleep it was nice to have someone who could chat away keeping the nerves at bay. I am late for absolutely everything, but Dee's time keeping was so impeccable I arrived bang on time, which meant the whole day ran like clockwork.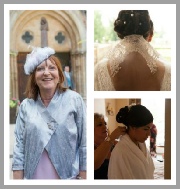 Jess and Chris
Not really sure where to start! You are a truly wonderful lady, and it shone through from our first point of contact. When we met for an initial consultation I knew instantly that I'd found my MUA. You were so reassuring, and I was confident in your work after looking through your portfolio. You were a pleasure to work with from day one, and put all my questions and queries at ease.

On the day, you were fantastic! Your experience came to light as you got on with making us all look beautiful whilst 'being one of the girls' and fitting in perfectly. The make-up lasted all day, even through the many tears!

The airbrush make up is incredible, it stayed in place without feeling too heavy- it felt as if I had nothing on, yet even my baby's dribble didn't ruin it.

Emma Stroud - Oxford wedding
Just to say a huge thank you for the fabulous hair and makeup you did for us, and I certainly cant recommend you highly enough.
I got so many comments on both hair and makeup which lasted brilliantly all day and was exactly what I wanted to achieve, the girls and mum were thrilled too.
You also knew exactly what to say to make us all feel totally relaxed and at ease, especially mum !
Again a massive thank you. Emma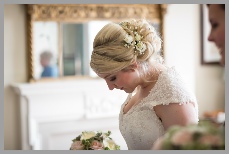 Stock
My search for a hair and make up artist began in the now usual way of online. Dee returned my emails very swiftly and was quick to offer an opportunity to meet her for a consultation to discuss my requirements and ideas. For those people that know me, I don't really have any ideas as I never wear make up and never do anything with my hair other than wash and brush it! I think my only requirements were that I wanted my hair up to enable the detail on the back of my dress to be seen and as I don't wear make up ever, I needed to look as natural as possible otherwise people wouldn't recognise me!

My bridal party consisted of my Matron of Honour and my nieces as bridesmaids - a very grown up 14 year old and a 5 year old - and along with myself and my mum Dee coped brilliantly with managing all 5 of us! Mum, my Matron of Honour and myself all had hair and make up trials on the lead up to the wedding, and in fact we had two trials of my hair. Please don't be scared to say if you don't think your hair or make up is right for you - Dee doesn't bite at all and would much rather you be honest with her rather than end up with something you are not happy with. She is happy for you to send her lots of photos of what you want - but please note that she is not a magician (well not completely anyway) and sometimes your hair just won't go how you want it to!

On the day Dee was at the venue and all set up before we arrived - doing hair and make up for 4 of us, and then just hair for the little one between 10.00 am and 1.30 pm was a lot of work!! She did everything brilliantly, had everything timed perfectly and did my nieces' hair for the first time as we weren't able to bring them up from Cornwall for a trial. We were all extremely pleased with the end results, and nothing came out of place at all for the whole day. Everyone commented how excellent we all looked and in particular my hair was the hot topic - with people saying that I should turn up for work looking like that every day!

We all trusted Dee completely, she is calm and cool and certainly delivered on the day. Thank you so much Dee, none of us could have asked for any more.

Thank you so, so much Dee.

Love Jessica Stock xx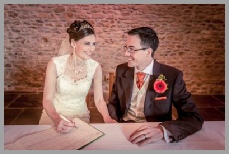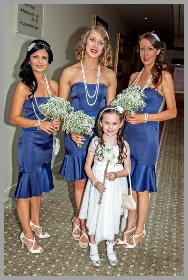 1920's Style Wedding
" Dee was amazing from the initial meet up. I told her that we were looking for a 1920's style to our wedding look and she was fully on board with this from the start offering idea's for makeup and hair styles.
The hair and makeup trial was a great experience and Dee put me and my chief Bridesmaid at ease from the start. We were both very pleased with the results for both hair and makeup and they fitted into the 1920's theme perfectly.
When the big day arrived Dee was on hand for me and my three bridesmaids and she and her assistant managed to replicate the hair and makeup from the trial and were great and keeping it in keeping with the 1920's vintage look I was after.
The final result for all of us exactly what we wanted it to be and more.
Dee is such a lovely lady and helped me out with a lot if aspects of our wedding planning and I could not have asked for more in a hair and makeup artist. The makeup that she uses is of great quality and the hair and makeup both lasted all day and was photo friendly all day too".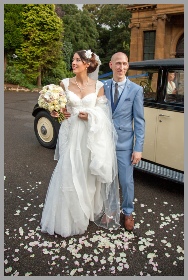 Mary
Thanks a million for the great job you did on my wedding day,You had lots of heads and faces to do. You was a star.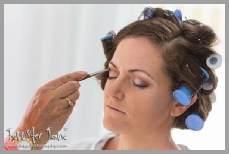 Leanne
Thank you so much for the wonderful hair and makeup you did on my wedding day. I absolutely adored my hair. It was exactly what I had wanted! The makeup was amazing and gave a very natural and flawless look. I am so happy that you were there on the day to make myself, mother, and sister look so beautiful! I would recommend you without hesitation. You were very professional and a lovely person to have around on the day of the wedding. Thank you so much Dee for everything!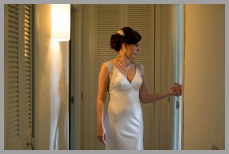 Dee is an amazing lady and an extremely talented hair and makeup artist.
She made me feel like a princess and is a very calming person to have around on your wedding day.
I can't recommend her highly enough!
Jennifer & Dipesh Wedding
I found Dee online and out of all the hair and makeup people/places I contacted Dee was the only one to pick up the phone and call for a chat.
She made me feel relaxed and listened to what I was after.
The airbrush foundation was amazing it was so light on the face and very relaxing to have applied.
On the day Dee helped keep us calm and our hair and makeup looked wonderful and could not thank Dee enough.
Thank You Dee for being part of our special day and if I ever need hair/make up done again I will think of you.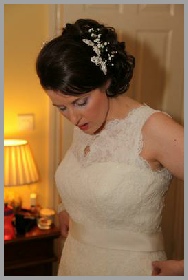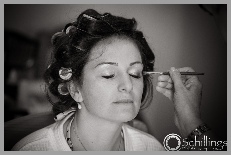 Nicola
WOW! Dee you are amazing ! You kept us calm and happy,and made us feel and look fantastic, so impressed, would recommend you anytime.
Cant thank you enough.



Jessica
"Dee was utterly phenomenal as my wedding hair and make up artist. She listened very carefully to what I wanted, while also giving her expert advice and guidance which was spot on. I am quite fussy when it comes to my make-up and hair, but after my trial I knew I was in very good hands and it was most definitely one less thing to worry about. Dee has very high standards and is a perfectionist. Just the type of person you want in charge of your appearance on your wedding day!
She has an amazing energy which fitted our wedding party perfectly! We all felt and looked wonderful and had a lot of fun in the process. I would recommend Dee to everyone and anyone getting married - in France or England! She's a true master of her art."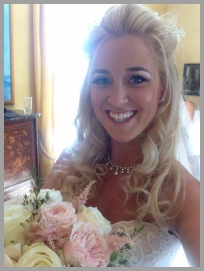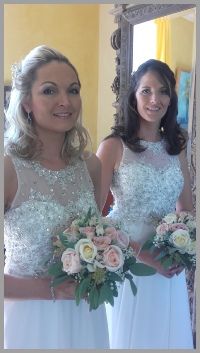 Eva
"From the moment Dee and I met for my hair and make-up trial, I knew she was the perfect match for me. We just clicked and Dee knew exactly what I wanted and what suited me. We had spoken quite a bit in advance through email and she took great interest in getting to know me, my style and understanding my ideas. The hair and make-up trial was so much fun, it felt like a girlie get together and the time just flew.
On the wedding day itself, I was so pleased to have Dee by my side. She kept me calm and was organised which is just what we needed. She did my bridesmaids' hair and make-up beautifully despite only having met her that morning and my mums make-up was stunning! I was in love with mine too, she took her time to ensure my hair and make-up was perfect for the big day. I never knew my hair could do the things she did with it and I loved it! It stayed all day and night long and my make-up was flawless too. I'm so pleased Dee and I got to share this experience together, she really is a wonderful, happy and positive woman, a real delight to be around and perfect to keep the energy up after a sleepless night before the wedding."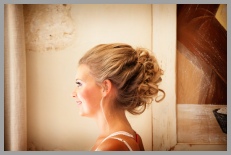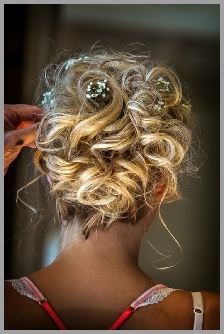 Chloe
"I'm not the kind of girl who wears a lot of makeup regularly, and as such, I was a little worried about getting my makeup professionally done for my wedding day. Thankfully for me I had nothing to worry about! Dee listened to my concerns very carefully and really heard me when I gave feedback on my trial! Come the wedding day, we had my look nailed, the outcome, both make-up and a beautiful casual updo for my hair, was perfect and completely me! I could not have been happier or more comfortable with the way I looked! Dee also did a wonderful job with my bridesmaid's hair, as well as my mum's!"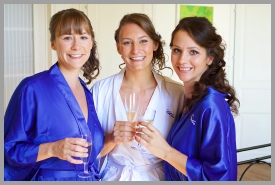 Suzie - 1st October 2016 - Chateau De Courrone
"Thank you so much for making such a wonderful contribution to my special day. We had lots of giggles, chats and fun on the morning of, but most importantly the hair and makeup was fab. You are so accommodating and listened to each person's specific requests. You are a true pro with that spray gun, I've never seen my skin looks so flawless! Thank you Dee!"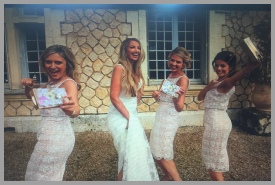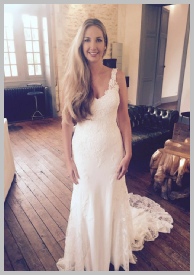 Hair and makeup in Spain by Dee for your wedding day and special events
Brides hair and makeup in Spain, Bridal hair and makeup in Costa Blanca, Bridal Hairstylist in Costa Blanca Spain
Hairstylist and makeup artist in Spain for your wedding day and special events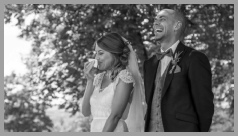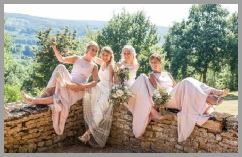 Clare's wedding
Hello beautiful Dee. Been meaning to message you. Thank you so much for all your hard work on the day, you were truly amazing and couldn't think of a nicer more professional person to make us all beautiful on our special day. Love to you and thanks again xxx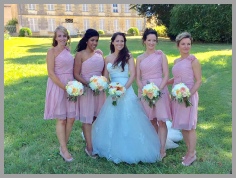 Helen's wedding
"Dee did a fabulous job doing my hair and makeup and my bridesmaids. Everyone wasn't exactly sure what they wanted and she put us all at ease and helped us choose the right style for each of us. An absolute pleasure to have around on our wedding morning, I would highly recommend her!"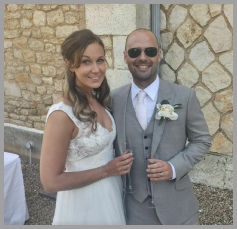 Kathryn's wedding
"Dee was incredible and really helped me out last minute after being previously let down by another hairstylist/MUA. She was so patient to get my vision just perfect whilst being so fun and bubbly to be around. The hairstyle that she created was even more beautiful than I'd hoped for, she literally turned my dreams into reality! A very talented and wonderful artist who I would recommend her to anyone! X"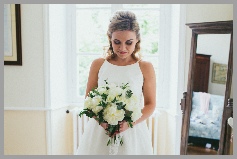 Rose's wedding
"Dee is a warm, lovely person and a true professional. She listened to everything I wanted, offered her own suggestions (she is the expert after all) yet never straying from the original idea too far.
On the day she makes you feel totally at ease and never seems to stress – even if those around her are!
The end results were perfect and I can't thank her enough.
Her kit is extensive (everyone needs to have an airbrush in their life) and she really does have something for everyone. I wish she could do my makeup each morning!"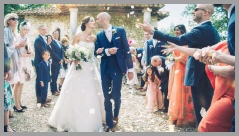 Clare's wedding
"Hi Dee. I just wanted to say once again, a huge thank you for everything you did for our big day. You completely put me at ease from our initial correspondence to the trial and the wedding day.

You listened to what I wanted to achieve but also provided helpful suggestions. I loved the airbrush foundation and I can honestly say my hair and make up stayed in place throughout the whole day (despite many happy tears!)

I am so grateful to you for not only making me look and feel fab but also my mum, sister, sister-in-law, mother-in-law and my best friend.

You always responded promptly when I had questions and when you're busy organising a wedding, that means a great deal!

I wish you every continuing success- you are a star.

Thank you once again.

Mrs Harris xx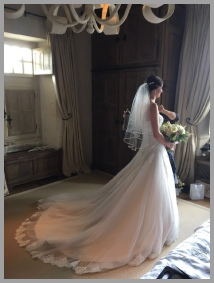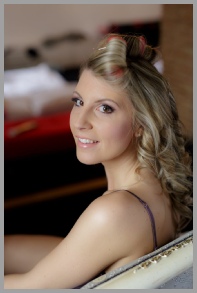 Rachel's wedding
"Hey Dee! Thank you so much for everything on my wedding day, it was really fun getting ready together and I loved my hair and makeup! Xxx"